Stephanie Reuler is a triple threat; author, screenwriter and chef. Reuler's latest work, Fantasea Origins: Kir & Luca, already released as a soft cover, is coming out as an ebook and audiobook in the nearing weeks. Fantasea is rooted in themes of friendship, empathy, tolerance, loss and connection.
When asked about what Fantasea Origins: Kir & Luca entails, Reuler says, "It's a story that brings together two families, a family of orcas (killer whales) and dolphins, who start as predator and prey, but then become not only allies, but family. They realize that while they look slightly different from one another, that under the skin, they are the same."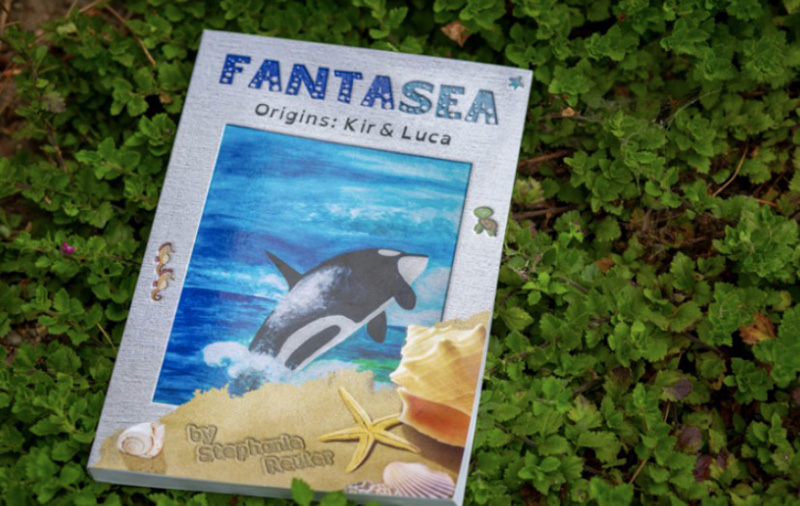 Reuler has always felt writing has been her calling. She stated in an interview, "It seems as if I have always been a writer. I was a voracious reader as a child and throughout my life, both created and appreciated stories. I was that kid who snuck books to bed and read under the covers. I fell into the worlds of the Black Stallion, and Narnia and Pern. Those brilliant authors inspired me, and creating stories was just a natural process in my personal evolution."
Steph continued, "It's something I've been lucky enough to always do and couldn't imagine not doing. The early process was as natural to me as walking. I've been blessed to have great teachers and mentors, both past and present, who have broadened and elevated my craft, as both an author and screenwriter."
Reuler's writing process is very organic. She gets the early formings of an idea, writes the gist of it in a loose outline and then dives into the story. As she sees it play out in her head, the tale and characters spring to life.
Speaking on her writing process, Reuler says, "I try not to be too precious with my first draft, as I rewrite up until the very last minute I can with every project. I will put a project down for a while so I can go back into it with a fresh perspective. At that stage I will often give it out for feedback, and then continue to rewrite based upon the feedback. That old adage, that writing is rewriting is certainly true for me. Also, sometimes I enjoy jotting down the first parts of a story by hand before moving it to my laptop."
When it comes to inspiration, Reuler finds both young adult (YA) and adult fiction her genres of choice and sees various writers in each genre as inspirational. For YA, she looks to CS Lewis, Madeleine L'Engle, Walter Farley, Roald Dahl, Bill Peet, Marguerite Henry, and Dr. Seuss. For adult fiction and screenwriting, Reuler is a fan of Anne McCaffrey, Cormac McCarthey, Oscar Wilde, Margaret Atwood, Chuck Palahniuk, Billy Wilder, John August, Chris and Jonah Nolan, Michael Schur, and Alan Ball.
Steph is also the creator/writer of an upcoming half hour female-forward comedy series. "It was definitely inspired by real life events. Having to do with my elderly parents and where I am in my life." Reuler states in an interview. "The juxtaposition of our lives created a flurry of ideas. I've been developing the series with my colleague Matt Keener and we have an amazing writer's room that I have been co-showrunning with Matt. We will have 10 episodes ready to take out soon from our company, Scenario. The show has so much heart, and it's loads of fun… and it's so relevant to so many people, I'm crazy excited about it."
Beyond her impressive capabilities as a published author and screenwriter, Reuler is also talented when it comes to culinary skills. "Steph Cooks Stuff" is Reuler's cooking channel. Reuler's favorite part about cooking is creating something from nothing. A lot of the time, Reuler uses whatever she has in her fridge to create meals.
Reuler notes, "One of my favorite things to make if I plan ahead is seared tuna with chimichurri sauce, with a 'crunchy' salad or a risotto with roasted butternut squash, walnuts, parm, cream and finished with sage in brown butter. I've gotten into crumbles too, using whatever fruit I have around, they're so good!"
You can get your hands on your own copy of Fantasea here.